Finding a Life Plan Community for Aunt Margaret
Published: November 6, 2020
"How can I best help my aunt?" This was the question my childhood friend Tina asked during a phone conversation we had a few months ago. Her Aunt Margaret, a widow without children of her own, had started leaning more and more heavily on Tina in recent years, and was overwhelmed by retirement community options and how best to plan for the future.
Tina moved to Pennsylvania after graduating from college, and Aunt Margaret retired to Florida in the early 2000s. So complicating Tina's predicament is the distance between her and her beloved aunt. And Aunt Margaret is starting to have trouble keeping up her house and is also having some memory issues. "Mica, please help me help her! This is what you do!"
I thought about what I could say to Tina that would help simplify the seemingly overwhelming decisions that have to be made to help our aging loved ones. But one idea was crystal-clear in my mind: Aunt Margaret needs to be in a life plan community. This single piece of advice is the most significant thing I could say to help my friend guide her precious aunt.
What makes a life plan community so important? Unlike other retirement communities, a life plan community, sometimes called a continuing care retirement community, offers choices and takes the anxiety out of planning—because a range of health care options is available for whatever a loved one may need. Whether it's independent living, assisted living, rehabilitation, or long-term care, a life plan community has it all—and has it onsite. Not only that, some life plan communities offer home health, palliative, and hospice care should those services be needed for both residents and those who choose to age comfortably in the place they call home.
Life plan communities also offer services and amenities in addition to care. And, according to the AARP, life plan communities provide the stability of allowing residents to stay in the same community as their health needs change, giving a much-welcomed sense of comfort and familiarity.
Opportunities for socialization are another important benefit of a life plan community. Aunt Margaret, who is both widowed and childless, will particularly benefit from the organized activities and opportunities for daily interaction with other community members. She'll have the privacy of her own space, but will also have friends, staff, and medical professionals always close by.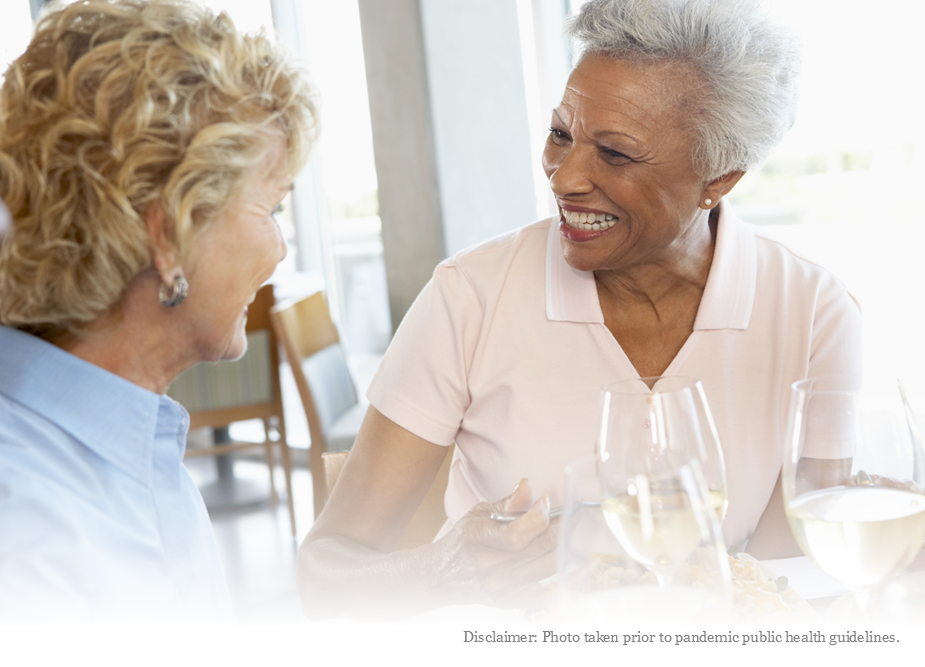 Finding a stable community with a proven record of excellent care is so important, I explained to Tina. Ohio Living, for example, was founded nearly 100 years ago, and has the experience and compassionate mission of a not-for-profit to deliver superior care in a warm and loving community setting. Our high ethical standards flow from a sense of mission and purpose to serve older adults with quality services.
Tina and I also discussed another important attribute of the right community for Aunt Margaret: memory care. Although slight, Aunt Margaret's memory lapses should be addressed immediately by trained medical professionals. And a quality continuing care community will offer not only the memory care she needs, but the stability of care in one location.
Now Tina has a starting point for her research for Aunt Margaret: she knows that the best community for her aunt will provide a continuum of seamless care in a life plan community. Tina knows, too, that once she's found the right community, she will be able to relax. She won't have to worry about Aunt Margaret's lawn care service showing up, her grocery order being delivered, how she will get to doctors' appointments, or whether her air conditioner is working. Aunt Margaret will have as much or as little help as she needs and wants. And Tina will have peace of mind!
Epilogue
Just a few weeks after my phone conversation with Tina, she called again, but this time all the anxiety in her voice was replaced by happy excitement. After looking at options and discussing them with Aunt Margaret, Tina was delighted to share that Aunt Margaret is moving to one of our Ohio Living communities! "I know she will have the best possible care," explained Tina. "Besides, Aunt Margaret really misses the change of seasons. Now, she will be just a few hours' drive away instead of almost 1000 miles, so we can be together for holidays and plenty of visits!
Now I can relax!"