Taking Care of Yourself: Tips for Caregivers
Published: November 14, 2020
Taking care of yourself is one of the most important things you can do as a caregiver. Make sure you're eating healthy, being active, and taking time for yourself.
Managing caregiver stress is essential and benefits both the caregiver and the person under their care. An important first step is recognizing common warning signs, including:
Denial about the disease and its effect on the person who has been diagnosed.
Anger at the person you are caring for, or frustration that he or she can't do the things they used to be able to do.
Social withdrawal from friends and activities that used to make you feel good.

Anxiety about the future and facing another day.

Depression that breaks your spirit and affects your ability to cope.

Exhaustion that makes it nearly impossible to complete necessary daily tasks.


"It's normal to feel guilty, angry or even abandoned when providing care for someone. It's important to recognize these feelings and get the support you need, so you don't put your own health at risk.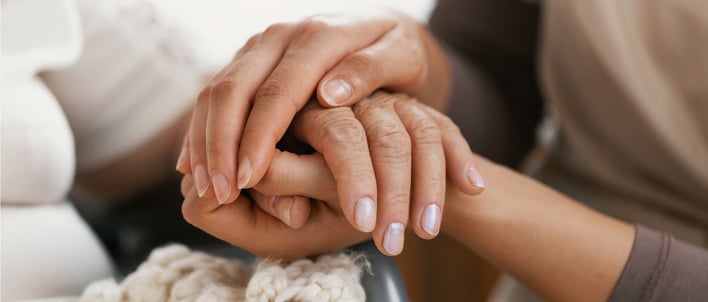 Caregiving is not easy for anyone—not for the caregiver and not for the care recipient. There are sacrifices and adjustments for everyone. When you don't live where the care is needed, it may be especially hard to feel that what you are doing is enough and that what you are doing is important.
Dealing with Feelings of Frustration and Guilt
Caregiving, especially from a distance, is likely to bring out many different emotions, both positive and negative. Feeling frustrated and angry with everyone, from the care recipient to the doctors, is a common experience. Anger could be a sign that you are overwhelmed or that you are trying to do too much. If you can, give yourself a break: take a walk, talk with your friends, get some sleep—try to do something for yourself.
Although they may not feel as physically exhausted and drained as the primary, hands-on caregiver, long-distance caregivers may still be worried and anxious. Sometimes, long-distance caregivers feel guilty about not being closer, not doing enough, not having enough time with the person, and perhaps even feeling jealous of those who do. Many long-distance caregivers also find that worrying about being able to afford to take time off from work, being away from family, or the cost of travel increases these frustrations. Remember that you are doing the best you can given the circumstances and that you can only do what you can do. It may help to know that these are feelings shared by many other long-distance caregivers—you are not alone in this.
Taking Care of Yourself
Taking care of yourself if one of the most important things you can do as a caregiver. Make sure you are making time for yourself, eating healthy foods, and being active. Consider joining a caregiver support group, either in your own community or online. Meeting other caregivers can relieve your sense of isolation and will give you a chance to exchange stories and ideas. If you need help, don't be afraid to ask for it.
Connecting with other caregivers and support organizations can help you find the information, resources and emotional support needed to help stay physically and emotionally strong so you can take care of yourself while you provide care to others.